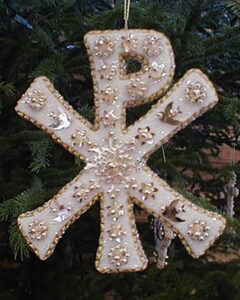 by Marie Nordquist, Liturgical Arts Team
Every year our sanctuary tree is decorated with white lights and some strange looking white and gold ornaments. What are they? They're Chrismons, shaped in the forms of ancient Christian symbols.
Chrismons, or Christ + Monogram, are the creation of Frances Kipps Spencer of Ascension Lutheran Church (ELCA) in Danville, Virginia. In 1957 she thought Ascension's sanctuary Christmas tree should have spiritually appropriate decorations and so she designed and created the white and gold ornaments, coining the word Chrismon – white for Jesus' purity and gold for God's majesty. Her ornaments have been adopted by Lutherans around the country for decorating homes and churches. 
Irene Day, a longtime Our Redeemer's member, with the help of Our Redeemer's altar guild made the Chrismons we use today. Among the symbols on our tree are The Orb and Cross- Jesus dominion over the earth, Chi Rho-Christ's monogram, The Circle with Cross-Christ in Eternity, Fish and Loaves-Jesus feeding of the 5,000, Fish-ancient symbol of Christ's community, Crown-God's reign. 
Our Chrismons are a little tired, they've been in use since the '60s, and are in need of repair or replacement; a few are beyond repair. 
Are you crafty? Let's create a new generation of Chrismons! If you're interested in making new Chrismons for our collection, let us know by contacting volunteer@ourredeemers.net.