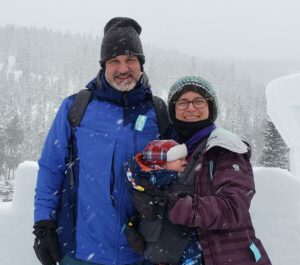 by Phillipa Dugaw
1. Tell us about yourself, your family and how you long you've been a member of Our Redeemer's.

I'm a mathematician, handbell ringer, canoer, lover of snow, reader of novels, wife of Sam, mother to Finnegan, and lifelong Lutheran. There's a lot more but those are the highlights. Sam and I moved to Seattle from Eastern WA in 2016 and I started looking for churches later that year. I found Our Redeemer's and joined the following Easter. It felt right from the first time I attended. Now attending with Finn (he was born November 2022) I'm starting to see things a little differently and loving it even more!
2. How did you get involved in the church and what ministry or ministries are you involved in? 
The first couple of things I was involved with were Ballard Sunday Dinner (BSD) and Theology on Tap. I enjoyed the discussions at TonT (and the beer!). It was truly a space where anything theological could be asked and discussed, no judgment. As for BSD, I started by being a volunteer for the cooking, serving, and clean up slots. Then I was asked to "shadow" the lead position a few times to learn the ropes. I was nervous and worried that it would be really difficult (how do you cook for 50+ people?!), but it turned out pretty easy once I knew what to do. Also, for the past 6 years (two terms) I've been on the church council. I've learned a ton from serving in that way and am really glad I answered that call. 
3. What's been your favorite part of working in that ministry? 
There are many things I enjoy about this ministry, but mostly it's the community we create and lift up. When I started with BSD, for example, we were serving hot meals in person to around 70 people each time. The volunteers would eat alongside the guests. Repeat volunteers started to make connections with repeat guests, learn their names and their stories, and check in when they saw them. We also created a community among the volunteers. Spending 2+ hours cooking and serving gave us time to get to know each other. Once COVID hit we started serving meals to go but we still saw a lot of the same people and kept making those connections. Now that we're back to in person we're seeing that the community is re-forming. While it's a terrible situation to have folks continually unhoused, it's good to know that there are ministries like BSD that can help provide support to those that need it.
4. How can others get involved in Ballard Sunday Dinner?
It's easy! Just sign up for whatever slot strikes your interest (see the bottom of page 9 for how to sign up). Cooking can be great fun and you don't need to know anything about making meals for large groups – the leads will tell you what to do. Serving is a great way to start making connections, and clean up is just as important as cooking! We're guests in the Ballard First Lutheran kitchen and want to leave it as clean as we found it each time. If you want to learn about leading BSD I suggest you shadow one of the leads who has done it a few times and knows the ropes. We have recipes that we know work well and can show you what you need to know to cook for a crowd in this kitchen. It may feel intimidating but I promise it's not so difficult!