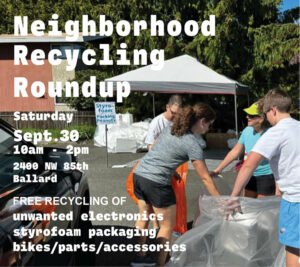 NEIGHBORHOOD RECYCLING ROUNDUP
Date: Saturday, September 30 from 10:00 am – 2:00 pm
Location: Our Redeemer's Lutheran Church parking lot, 2400 NW 85th Street (west of church), Seattle
Bring your clean Styrofoam, bagged dry packing peanuts, and unwanted electronics to be responsibly recycled.
Electronics accepted are: Laptops, desktops, monitors, mobile phones & tablets, servers, cables, software &  accessories, modems & routers, office phones, telecom systems, game consoles, iPods & MP3s and printers & ink toners.

Also bikes and bike accessories in any condition are being collected for Bikeworks, a non-profit that teaches youth to build bikes.

Volunteers needed. 
Our event partners:
Styro Recycle
Contact: Adam Levant, 253-838-9555
Items accepted: Only clean Stryfoam (no tape) and bagged peanuts.
You can pickup up free plastic bags for Styrofoam bagging at business prior to event (23418 68th Ave S, Kent, WA)
Bike Works
Since 1996 Bikeworks has worked to educate and empower youth, and make bicycling accessible and affordable to the Seattle community
Contact: Kae-Lin Want, 206.806.8406
Items accepted: Any and all donations of bikes, parts, and accessories, including bike racks, regardless of value or condition.
Living Green Technology
Living Green exists to spread awareness of the hazards of e-waste and provide an eco-friendly way to dispose of unused electronics.
Contact: Steven Hoag, 253.204.4438
Web: www.livinggreentechnology.org
Items accepted: Laptops, desktops, monitors/mobile phones and tablets/servers/cables, software and accessories/modems and routers/office phones/telecom systems/game consoles/iPods and MP3s/printers and ink toners.
Items not accepted: TVs, lightbulbs, household batteries, large home appliances (refrigerator, ovens, etc)
Other: all hard drives wiped to NISIT standards. Items turned to reuse or ground into raw materials.