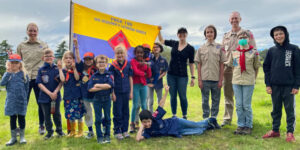 by Morgan Fowler
Our Redeemer's relationship with the Boy Scouts of America, now Scouts BSA, is long standing. We are the chartered organization for the oldest cub scout pack in Ballard! During the pandemic, and observing all related safety protocols, Cub Scout Pack 100 has continued to welcome new scouts into the ranks, served the community, and carried on with beloved traditions such as the annual Pinewood derby race, and this year's Syttende Mai Parade.
Inclusion, and service to the community are just two of Pack 100's values that make it such a great fit for Our Redeemer's. As fall begins, and new and continuing ministries develop at Our Redeemer's, please keep this group of enthusiastic, caring, and inquisitive youth on your minds and in your prayers. 
Adults with gifts and time to share, kids grades kindergarten – 5th who are interested in joining, and families who want to know more about Scouts BSA and Pack 100, feel free to contact Morgan Fowler, Chartered Organization Representative: morgan@eagleiv.com or join@pack100ballard.com.
Note: Our Redeemer's renovated facilities host many groups who need a space to meet. Contact administrator@ourredeemers.net if you're interested in rental space.