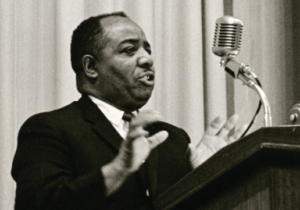 September 20 is the anniversary of the passing of the Rev. Dr. Nelson Trout, the first African-American bishop of the American Lutheran Church and the Evangelical Church of America, and the day set aside for his Commemoration in the ELCA Calendar of Saints.
Born in Columbus, Ohio in 1921, Bishop Trout presided over the South Pacific District from 1983 to 1987.  The district expanded to include parts of the Rocky Mountain, Pacifica, Grand Canyon and Southwest California synods. He was a graduate of Capital University and Trinity Lutheran Seminary in Columbus, Ohio. He received his doctor of divinity degree from Wartburg College in Iowa.
Included in Bishop Trout's resume are positions held as assoc. youth director, director of urban evangelism, Ohio's executive director for minority ministry studies at Trinity Lutheran Seminary. In his honor, Trinity Lutheran Seminary established the Nelson W. Trout Lectureship in Preaching.
Nelson Trout was known for his vibrant preaching style and commitment to social ministry. As a contemporary of Reverend Martin Luther King Jr., he often had contact with him and considered him a friend. Both men were known for their captivating oratory.
"As I traveled about the country it appeared to me that the judgment of history is being executed in the streets of our cities. America is learning that you cannot violate God or neighbor with impunity. There is a biblical reference which says that "if one sows to the wind, [one] will reap the whirlwind." There is another which says, "The fathers have eaten grapes and have put their children's teeth on edge." The formidableness of such an inexorable justice is the nature of the challenge facing America, and I am fearful that we are not willing or ready to accept its decree." – The Rev. Dr. Nelson Trout, Lutheran Quarterly, May 1968
Nelson Trout died in Inglewood, California at the age of 75, survived by his wife, Jennie (who passed away on February 22, 2013) and three adult children.