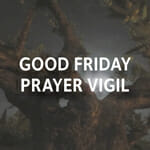 Noon, April 2 (Good Friday) to Noon, April 3
This year's Prayer Vigil takes place from noon on Friday, April 2nd to noon on Saturday, April 3rd. It will take place away from the church and can be anywhere from home to a favorite quiet place. 
SIGN UP HERE (https://signup.com/go/nrKAEQH) for a one hour spot. Once signed up for the hour you choose, you will receive some aids on prayer, reflections and all the prayer requests. 
Do you have a prayer request to have someone pray for during the Vigil? Submit your request at this LINK (https://rb.gy/xe4vsc).
Questions? Email or call Kari Guddal, kari_guddal@outlook.com, 206-790-1780.