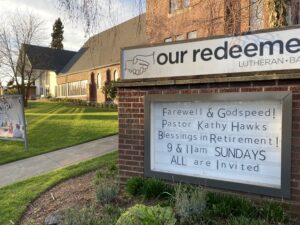 Now that we've celebrated and honored Pastor Kathy's ministry and blessed her as she moves to new adventures, we look to move on as a congregation.
On Monday, February 28, we entered in to our time of congregational transition. To respect Pastor Kathy's boundaries surrounding her departure, the Synod asks us to refrain from contacting her regarding personal issues or pastoral care needs.
We are also requested to allow a year before contacting her personally. This allows us as a congregation to move fully into the next phase of our life, and to bond fully with the next pastor. 
Pastor Kathy, although much beloved, is no longer serving this congregation as a pastor, and we are all asked to respect this new stage in her life. This is not easy for us or for her, but it is essential for the overall health of the congregation. 
Pastor Gretchen is more than happy to help with whatever pastoral care needs you might have in the interim and moving forward together in ministry. Please don't hesitate to reach out to the office with questions or to clarify what is appropriate.
What to Expect in the Transition
Here's is what we currently know about the transition process. A more precise timeline will be forthcoming:
An Interim/Transition Pastor arrives to oversee the transition process and help provide pastoral leadership.
A Transition Team will be formed to clarify our mission, strengths of congregational temperament, demographics, etc.
A Call Committee Formed: Using what the Transition Team has discovered, the Call Committee interviews the candidates will be forwarded to us by the Synod.
The Assistant to the Bishop will also be assisting and guiding us through this process.
May God's peace be with us all.