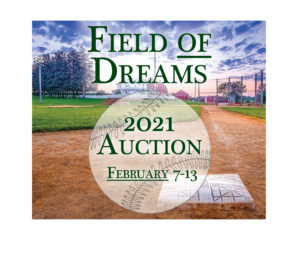 by Pastor Gretchen
We knocked it out of the park, friends! Thank you to EVERYONE who participated in our annual festival and fundraising auction. 
Quite different this year, we held a successful online silent auction with over 70 items donated from members and friends of our congregation, raising over $6,000. Huge thanks to Debbie Lematta for organizing the online effort, and for everyone who shared and promoted the auction to their friends and through social media. 
Our live auction gala was on Saturday night. Tim Hunter and Pastor Gretchen laughed and joked their way through an amazing program with heads/tails, "Take Me Out to the Ball Game" on banjo, a fun scavenger hunt, and amazing live items that ended up raising almost $12,000! Thanks to our team, Kim Barowicz, Phillipa Dugaw, Jean McCarthy, Tim Hunter, and Pastor Gretchen for making everything as smooth as stealing third base.
Our Fund-A-Need project this year was an accessibility need in our new sanctuary – adding bench seats and adjustable arms to our pew-chairs, so that everyone can feel safe, stable, and welcomed into our new worship space. Together, we raised over $10,000 toward meeting this honorable goal. 
All told, we raised almost $29,000. Amazing!! We are still accepting donations if you would like to make a gift as well. Every gift is a win/win building community, serving our ministry, and being mindful of our vision and purpose as a congregation.
Thanks to all our donors:
Jerry & Ronda Andrews
Jim Arnold
Ingrid Brissette
Judy Carrier
Linda and Carl Christenson
Phillipa Dugaw
The Durbin Family
Cindy Ege
Kyra Ege
Torin Ege
Kari Guddal
The Hammett Family
Kathy Hawks
The Hlastala Family
Tricia Kloth
The Kukowski Family
Kristine Leander
Karen Lee
Debbie Lematta
Joshua Liljenstolpe
The McCarthy-Fredericks Family
Logan McCarthy-Fredericks
Zach McCarthy-Fredericks
Gretchen Mertes
Ryan Mertes
Debbie Niedner
Our Redeemer's Church Council
Eric & Melanie Olson
Sally Parker-Henderson
The Racial Justice Team at Our Redeemer's
The Running Family
Niels Running
Jennifer Seyler
The Simpson Family

 

Jodi Somm
Syndey Spray
Valerie Tung
The Wander Family
Noel Wannebo
The Neu Family
You Can Still Give to Our Auction Fundraiser (Thank You!). Here's how:
Donate on BiddingOwl – https://www.biddingowl.com/OurRedeemers. Scroll to the bottom of the page and click on the "Donate" button and enter the amount to pay. You can use PayPal or choose to "donate with debit or credit card".
Donate Online Directly to Our Redeemer's: Go to https://ourredeemers.net/donate.
Give by Check: If you give by check, please include a note about what the donation is for and don't forget to send your check to our temporary address: 5306 Ballard Ave NW, Ste 226, Seattle, WA 98107.