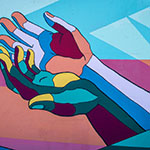 Every year, Our Redeemer's tithes for service and social justice. Three percent of our offerings are distributed to organizations chosen by the Social Justice Team. We thought you'd like to know where these donations went in the past year.
AMMPARO works with congregations to accompany and uphold the rights and safety of migrant children and their families; to address the root causes of migration; and to work toward just and humane policies affecting migrants in and outside the U.S.
Ballard First Lutheran Church hosts our Ballard Sunday Dinner ministry through the provision of their kitchen, Fellowship Hall, and utilities. This small gift supports their hosting.
Ballard Food Bank provides access to nutritious food through our food bank, home delivery, Weekend Food for Kids program, and Kindness Café. They also host the Community Resource Hub, where partner organizations offer a range of services like housing, medical care, and veterans' benefits. They offered eviction prevention to 400 households in 2020, as well as utility assistance, identification vouchers, and mailboxes.
Ballard Sunday Dinners funds monthly dinners prepared by ORLC members and friends for our low-income and unhoused neighbors
Bridge Care Center ​offers resources, relationships and case management to individuals experiencing homelessness or economic hardship in Ballard. They are seeking more funding to expand their open hours and outreach work. Our Thanksgiving sleeping bags were distributed through the Bridge Care Center in 2021.
Earth Ministry transforms faith into action for the well-being of communities and the environment. They organize people of faith to advocate for strong environmental policies and provide strategic guidance to religious communities working toward environmental justice.
Faith Action Network is a multifaith statewide partnership of faith communities and individuals striving for a just, compassionate, and sustainable world through advocacy, community building, education, and courageous public action.
King County Equity Now engages in advocacy and policy organizing focused on developing liberated Black communities that own and control the resources and systems that impact Black lives.
Lutheran Community Services Northwest partners with "individuals, families and communities for health, justice and hope." Works in the areas of mental health counseling; drug and alcohol treatment and prevention; sexual assault; family programs; equipping refugees and immigrants with skills and resources; enabling aging adults and people with dementia or disabilities to live independently; and youth skill-building and peer support.
Lutheran Disaster Response shares God's hope, healing and renewal with people whose lives have been disrupted by disasters in the United States and around the world. "When the dust settles and the headlines change, [they] stay to provide ongoing assistance to those in need." Some regions in which they are currently working include Ukraine, Slovakia, Romania, Afghanistan, Ethiopia, Palestine/Israel, Haiti, US
Lutheran Immigration & Refugee Services is the largest faith-based nonprofit dedicated to serving vulnerable immigrants, asylum seekers and refugees in the U.S. They resettle refugees, support asylum seekers on the border, educate on migration and climate change, and advocate for immigrant support with the government.
Lutheran Peace Fellowship is a "community of Lutherans across the nation, responding to the gospel call to be peacemakers and justice seeker." LPF offers workshops, leadership training, resources, youth program, and advocacy updates. Their current top priority is ending world hunger.
Lutheran World Relief provides aid in emergencies, partners with communities to grow rural economies, and helps people build self-sufficiency. Our Redeemer's financial support helps create school and hygiene kits, and enables shipping of these kits and quilts handmade by our Quilter's group..
Mental Health Chaplaincy provides a compassionate, companioning presence for those experiencing homelessness and mental health challenges in the Pacific Northwest. MHS also educates communities and advocates for "readily accessible mental health care that attends to the whole person."
Mother Nation is a grassroots Native American organization which offers culturally informed healing services, advocacy, mentorship and homeless prevention in the State of Washington. Their culturally-informed healing services are provided by credentialed Native American Elders who apply culture to clinical practice.
Na'ah Illahee Fund: Red Blanket Fund provides direct assistance to Indigenous individuals and families who have experienced family members—mostly women–who are missing or murdered. Assistance covers searches, awareness, aftercare services for families whose loved ones come home, funeral expenses, and legal fees.
Nehemiah Initiative helps stem the rate of the displacement of Black residents, businesses and churches in Seattle by providing affordable housing and business space opportunities on property currently owned by Black organizations. "Along with the loss of Black-owned residential and commercial property, Seattle alone has lost over a dozen Black churches in the past 10 years."
Operation Nightwatch "reduces the impact of poverty and homelessness, in keeping with Jesus' teaching to love our neighbors." They provide hot meals for homeless friends late at night, overnight shelter through a series of partnerships, and a senior apartment building.
Paths to Understanding bridges bias and builds unity through multi-faith peacemaking. They do this by nurturing existing relationships and fostering new ones between wisdom communities, telling stories, and acting together for the common good.
Reconciling Works advocates for the acceptance, full participation, and liberation of all sexual orientations, gender identities, and gender expressions within the Lutheran Church and the wider community.
Luke's Edible Hope Meals Program welcomes and serves anyone who needs breakfast in our church basement in the heart of Ballard. On average, they serve over 100 breakfast meals each day Monday through Friday. We made mini-pies to distribute as part of Edible Hope's Thanksgiving brunch.
Transgender Law Center challenges the legal system to respect the dignity and humanity of transgender and gender nonconforming people. They engage in litigation in areas like employment, education, and immigration. They also provide legal support and guides for those battling gender identity injustice.
Urban Rest Stop – Ballard is a hygiene center that provides free restrooms, showers, and laundry facilities to unhoused individuals within a clean, safe and dignified environment. Patrons receive free toiletries. Urban Rest Stops are a program of the Low Income Housing Institute.