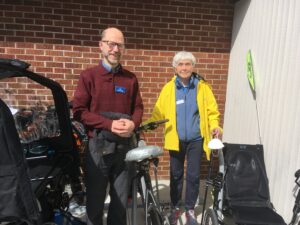 Celebrate Our New Bike Racks and Biker Beverly!
by Elizabeth Dickinson
Our Redeemer's just became a whole lot more bike friendly! A new bike rack was installed directly to the left of our front doors by Tad Anderson. The bike racks are a gift from Beverly (Bev) Anderson – Tad's mom, friend of Our Redeemer's and an intrepid cyclist. 
Visiting recently, I got the chance to see her splendid three-wheel recumbent bike, a bright blue. At age 89, she doesn't mind using the battery assists on some Seattle hills! 
Beverly's first bike at age 12 was also blue. She tells the story of breaking it in on the way to a Girl Scout bike trip in the suburbs of Milwaukee. Bev and a good friend decided to bike to the biking event, from northeast to southwest Milwaukee. The trip featured 90 degree heat, big well-trafficked roads, getting sprayed with flecks of asphalt from road construction, a "helpful" garage attendant who gave the girls gasoline-soaked rags to wipe off their arms, and ensuing vomiting. The actual Girl Scout biking event was a much tamer affair. 
Since then, Bev has pedaled across the country west to east twice, ridden a 200-mile event in one day, and biked in all 50 states. One of her favorite rides was "Ride Around Wyoming" (for which participants got the "I Rode in the RAW" t-shirt)! The event started in Jackson, near the Teton Mountains, looped through the Great Plains, and climbed back into the Rocky Mountains. She definitely earned the view of the snow-capped beauty encircling her.
It turns out that biking through North Dakota is beautiful too, according to Bev. She delighted in the undulating landscape, fields of sunflowers and ducks paddling through puddles. 
After early retirement, Bev twice rode coast to coast, once from Anacortes to Bar Harbor, Maine – no sag wagon, no bike repair vehicle, just riding and camping and cooking out. The second trip began by dipping their back wheels in the Pacific Ocean in San Diego and closed with a police escort into St. Augustine, Florida, where they dipped their front wheels in the Atlantic Ocean. The surprise for me is that biking east of Cleveland is apparently much harder than in the western mountains. Ask Bev why! 
In addition to being an avid cyclist with an affinity for blue bikes and adventure, Beverly is the mom of three children, a Ph.D. in biochemistry, and a fan of Mozart.