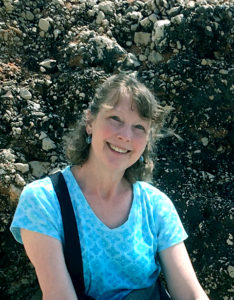 Our hard-working search team's long efforts have finally been blessed with a new partner for Our Redeemer's social justice ministries. Please come to one (or more!) social justice meetings or events in the near future, and meet Elizabeth by Zoom and eventually, in person. She brings a wealth of experience, insight, and along with love for God's justice, a real delight in growing relationships. Many thanks, Ronda Andrews, Tom Bernard, Marie Brissette, Eric Running and Leslie Wander, for your good work. 
About Elizabeth by Elizabeth Dickinson (she/her pronouns)
I am delighted to join the community of Our Redeemers Lutheran Church as Social Justice Coordinator! I felt invited in by your commitments to service and justice, your warmth, and your longing to create strong mutual relationships with others in the wider community. 
I believe passionately that our faith calls us to social justice, as Jesus embodied hospitality, sharing, healing and liberation from systems of oppression. Much of my life's work has come out of that belief, most recently as manager of a faith-based internship program for young adults to engage in social change. I'm deeply influenced by theologians from the global south and disempowered communities in the U.S., as well as by people I meet every day who act for a more just world. My partner Joe is a physician at Harborview Hospital who focuses on pain and addiction, and we have two adult children, Hannah and Nat.
I look forward to collaborating with you in ministries of caring for the most vulnerable, embracing racial and economic equity, sustaining our earth, and walking alongside others seeking justice.