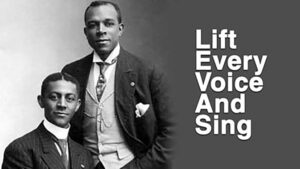 IN CELEBRATION OF BLACK HISTORY MONTH, we turn our attention to "LIFT EVERY VOICE & SING"
Often called the Black National Anthem, "Lift Every Voice & Sing" was originally recited as a poem for Booker T. Washington by the 500 students of the all-Black Ed Stanton School in Jacksonville, Florida. Washington was the guest speaker for an Abraham Lincoln birthday commemoration on February 12th, 1900.  
The poem was written in 1899 by James Weldon Johnson (1871-1938), the principal at Stanton, who later became the first African-American leader of the National Association for the Advancement of Colored People (NAACP). James' brother John Rosamond Johnson (1873-1954), who had trained at the New England Conservatory of Music, set the poem to music. In 1919, it was adopted as the official song of the NAACP.
"LIFT EVERY VOICE" was sung throughout the Civil Rights Movement, and can be heard at Black school assemblies, churches, and heritage events today! Forty Christian denominations – including the ELCA – have included it in their hymn books. Representative James Clayborn of South Carolina has even suggested making it the U.S. National Anthem.
This song is simultaneously a prayer of thanksgiving to God for faithfulness and freedom and an enthusiastic expression of pride and confidence in God, America, and Black heritage! You will find it in our green hymnal, #562.
Check out these YouTube renditions of "Lift Every Voice & Sing!" from Spelman College and Morehouse College.
(The Johnson brothers ended up in New York City where they collaborated to produce over 200 songs on Broadway, and became known as the Black Gerschwins!  James Weldon Johnson was also a lawyer, diplomat, and professor of creative writing.)