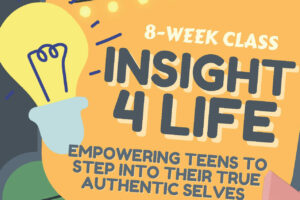 Fridays, May 13 – June 10, 7 – 8:30 PM | Our Redeemer's
presented by Phillipa Dugaw
Are you looking for a powerful course where 6th-8th graders discover their unique talents and learn valuable tools, that empowers them for success at school and in life? How about a really fun Friday night class for your kids that teaches them tools and techniques to help them find their true, authentic and creative selves! Kids get to meet new friends, take the class and then hang out.
Phillipa Dugaw (a member of our congregation) will be teaching this amazing 6-week program called Insight for Kids at Our Redeemers for a group of 8-10 middle school students.
The class is an hour of "lesson" time with fun activities and a half an hour hanging out. It is open to the first 10 kids and is not limited to families in our congregation.
Please know that to really gain value from this program kids must commit to all 6 weeks. Parents and kids will complete a survey at the start and end of the session. The cost is $20. All supplies are provided and included, and scholarships are available.
REGISTER HERE: https://tinyurl.com/4ay7xun5.