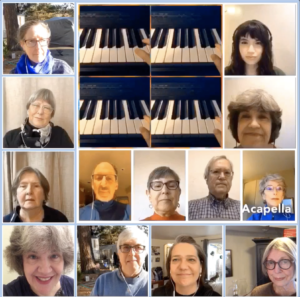 by Karen Lee, Our Redeemer's Traditional Worship and Music Director
As I write this, Choir rehearsal is about to start. I always look forward to gathering with these caring, talented, giving people – whether in person, or for the past year, online.
One constant blessing throughout this really challenging year has been the desire for musicians to still create music. And we have needed to figure out new and creative ways to sing and play together though physically apart.
I want to thank all the people who have contributed to Our Redeemer's music this past year, and the extra effort that is involved in learning new technologies to record. As we approach Holy Week and Easter, so many musicians have stepped up to offer their gifts of singing, as well as playing a wide variety of instruments – from strings to woodwinds, brass and bells.
And I especially want to express my gratitude to my music colleague and friend, Pastor Gretchen. Planning music together is a rich, energy-filled, fun, and meaningful experience, and I am so thankful we get to partner together in this ministry.
To all who sing, play, listen, and enjoy, Thanks be to God.
With Easter Blessings,
Karen