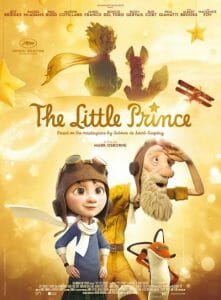 Join us for a fun family evening!*
"The Little Prince" will be shown in the Fellowship Hall on Saturday, November 19th @ 6:30pm. "The Little Prince" is a family-friendly movie based on the classic children's book.
Pizza, popcorn, and a movie! What a great way to spend an evening with family and other in our community. Kids are welcome to be comfy in their PJs and bring sleeping bags to snuggle in during the flick. Bring friends – neighbors – extended family — All are welcome!
Pizza (gluten-free pizza upon request), popcorn, fruit, juice, and dessert will be provided. A freewill offering will be collected for the meal. Adults are welcome to bring beer and wine. Sparing a few minutes to help clean up after would be greatly appreciated!
If you plan on joining us Saturday, November 19th, please RSVP by Friday, November 18th to hgundack@live.com with the number of kids and adults attending so we know how much pizza to order.
See you there!
*If you are will to be a part of the "Family Movie Night Team" to help plan and organize this and/or future Movie Nights, please contact Holly Gundacker. (909-7204; hgundack@live.com)