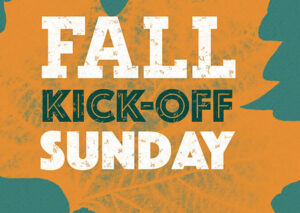 Don't Miss Kickoff Sunday on September 10th!
Sunday, September 10, 9 AM – 12:30 PM
Make sure to be at church on Sunday, September 10th for the return of two Sunday services at 9:00 and 11:00 am! We also have an open house for Sprouts, O-Rock, and Middle School events!
At 10:00 am between services join us for:
A Ministry Fair where all the different ministries will be on display: music, social justice, faith formation, building and facility, office support, and more! This is a chance to learn more about what we do to keep our church vibrant and share, connect, and answer your questions.
Our Faith Formation Open House where teachers and their classrooms will be open and accepting registration for classes.

 

A rundown of upcoming Middle School Fun Nights by Andrew Shimer.
Teachers who will be on hand to meet all kids in 7th-9th grades who want to Explore Confirmation.
A Bible Exchange! Check your bible at home, and see if an upgrade might be in order!