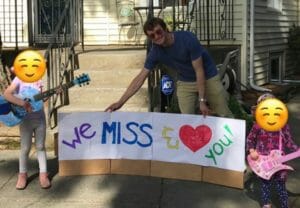 Dear Friends,
Yesterday, one of our families came by my house as I was weeding. They stood at the end of my driveway, mom, dad, a kindergartner and preschooler, playing toy guitars and holding up a big sign that said, "WE MISS YOU!" It was the highlight of my day!!! YES! Staying home and physical distancing are lousy! But, as the Hammetts reminded me, there ARE wonderful ways around it. 
Similarly, the uncertainty we face is unsettling. How can we plan when we don't know what the future holds?
And yet…we must plan, because if ever there was a time for ministry, this is it! We and our neighbors need God's inspiration, hope, community and often, material help. 
Our Redeemer's' leadership and staff have been bringing the same "can do" spirit to their planning that brought the Hammett family to my driveway. They are working hard, making faithful plans and choices for the future, based on our mission, and our best information. 
A basic touch point for our planning has been this video of Dr. Michael Osterholm. http://mpls-synod.org. He is the Director of the University of Minnesota Center for Infectious Disease Research and Policy and has served under five presidents. This is the clearest presentation I have seen on pandemics, COVID, churches and what we can expect. He's also a Lutheran! 
WHEN WILL WE BE ABLE TO WORSHIP TOGETHER AGAIN?
The bottom line is: we do not want to gather until we know it is safe. Governor Inslee's Phased Reopening puts gatherings of more than 50 people in the last phase. That, combined with our renovation timeline, makes it unlikely we will be able to gather until some time next Spring. The possible exception to that might be worshiping outside for a period. 
As a result, staff is learning new tools to combine voices and instruments, and to involve more members in music and worship leadership. We want our worship to be as moving and inspiring as possible!
We'd like nothing better than to be wrong about needing to put off re-gathering until next spring. Staff is working to prepare a phased reopening plan for our worship and other ministries, based on Synod guidelines, which Council will review. We will be watching carefully and ready to go, as soon as it is possible to do so safely!
HOW IS THE FINANCE TEAM AND COUNCIL WORKING TO INSURE OUR REDEEMER'S IS FINANCIALLY STABLE, ESPECIALLY AS WE CREATE THE 2020-2021 BUDGET?
God has blessed us with leaders who bring just the skills we need for this time. As a result, we have been able to:
Do a deep dive and analysis of past giving pattern data.
Do risk and giving projections into the future.
Make use of the Lilly Family School of Philanthropy, which has a long history of research-based insights about giving, particularly to churches.
Apply for and receive a federal payroll protection program grant, which will pay for staffing costs for two months. We have set up a separate bank account for that money, to clearly meet all requirements for its use and avoid any interest penalties.
Staff is thoroughly reviewing how working and worshiping from home will affect our expenses in the coming year – from utilities to communion bread! Karie Stearns, our administrator, is also looking at how rental income will be affected.
HOW CAN WE HOLD CONGREGATIONAL MEETINGS WHEN WE CAN'T MEET IN PERSON? IS THERE A WAY TO ENSURE VOTING WILL BE CONFIDENTIAL?
Our annual congregational meeting will be a Zoom meeting on Sunday July 12 at 12:15pm. Our constitution prohibits voting in absentia or by proxy, but as long as members can see and hear one another, our synod has said a Zoom meeting and vote is authorized by State law. 
Assuming we know in time that GROW/Ballard P-Patch is able to buy our property, we expect to vote on the budget for our Vision-Aligned Building Renovation on same Sunday.  Additional Zoom meetings will be held before the congregational meeting so we all have plenty of time to discuss this important undertaking. We may use "breakout" rooms (like we used on Healing Service Sunday) for smaller groups, who then bring thoughts to the larger group at the meetings. 
Confidential voting will be possible by Zoom. Details are NOT worked out yet, but it will likely involve check-in to be sure each participant is a full voting member, assigning each person a unique number, and then using that number on a "survey" tool to vote. We are also still working out how to handle those without computers. 
DO YOU HAVE MORE QUESTIONS? Please contact a Council member, Parish Administrator Karie Stearns, or one of the pastors. And thanks for your patience, care for one another, and prayers for the well-being of our congregation and our mission.
Pastor Kathy Hawks