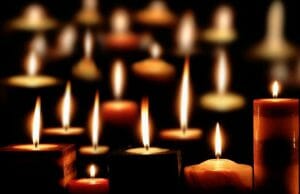 Luciafest | Sunday, December 13, 6:30 PM – Zoom Link – Lucia's message of light and charity this year will be a virtual look at Luciafests gone by. 
Christmas Pageant | Sunday, December 20, 11 AM – Zoom Link – Our children virtually reenact the miracle and meaning of Christmas.
Blue Christmas | Monday, December 21, 7 PM – Zoom Link  |  Download Blue Christmas Poster – An online service to honor our melancholy feelings and offer comfort, hope, and healing.
Beer & Carols (Theology on Tap) | Tuesday, December 22, 7 PM – Email Emilie Purvine or Betsy McGregor for the Zoom link – Bring your favorite holiday beverage and a list of your favorite Christmas carols. We'll talk about those carols and why they mean so much to us and Pastor Gretchen will have her guitar handy to lead us in a few of our faves! All are welcome!
Family Candlelight Service | Christmas Eve, Pre-recorded – Download @ Noon LINK  – This family-oriented service features stories, carols, communion, and a candle-lit singing of "Silent Night". 
Candlelight Service | Christmas Eve, 10 PM – Zoom Link – Hosted live on Zoom and Facebook Live, enjoy wonderful music from our choir, orchestra, and handbells. We will also celebrate Holy Communion together, and sing "Silent Night" with candles.