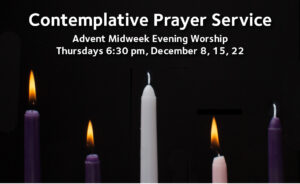 Midweek Evening Worship
Thursdays 6:30 pm, December 8, 15, 22 
In a time when the busy-ness seems to be accelerating, allow yourself a brief moment to breathe. 
Come and wait the return of Christ this Advent in song, prayer, and silence at this brief service of reflection the first three Thursdays in December. 
Remember that Advent is a time of waiting, and anticipation. Don't rush the experience – savor the moment.