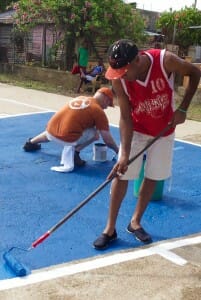 "From the moment we stepped off the guagua (small bus), we were swarmed by children. They grabbed our hands and jumped on our backs yelling 'Caballito! Caballito! (or, Piggy back! Piggy Back ride!')" – Elizabeth.
What does an accompaniment mission trip look like? Youth from Our Redeemer's travelled to the Dominican Republic to discover what it means to walk alongside neighbors in a different country.
"Overall this experience was one, if not the greatest, most eye-opening experience that was able to bring me closer to my friends, complete strangers, and God. It taught me a great deal about how even helping in little ways is incredibly significant to individuals, and to communities that are in need." – Jonah Hlastala
Accompaniment Mission in the Dominican Republic
In July of 2014, six high school youth and three adult leaders travelled to the Dominican Republic to develop relationships with and accompany our Dominican brothers and sisters. See pictures of the trip here and read more about accompaniment mission here.
Learning Together
For two days Santo Domingo, the Capital City, was our home. We visited a juvenile detention center – meeting young boys and men working hard in a rehabilitation program, visited a small neighborhood church as well as a few homes, joined a team the feeds their neighbors who are homeless, and enjoyed an afternoon learning about coconut shell art from adults living together with mental and physical disabilities at El Arche.
Living Together
The community of El Cacique became our family for three days.  We worked alongside the people of the community painting a basketball court and school, tie-dying and playing with children, and developing relationships with people of all ages.
Reflecting Together
The last two days of our journey focused on reflecting on our time together. We were able to explore the natural beauty of the Dominican Republic in Cabarete while processing our experience together before re-entry to the United States.
Stories from our Youth
We re-painted their basketball court, and the interior of a school. This experience brought me very close to God, because even through all of the sweat, God was able to show me the great effect that this will have in the community. – Jonah
The ability to know and love other people while grappling a language barrier is true magic to me. – Hannah
I saw Ellie talking with an older woman. They were sitting in the small desk chairs with their heads together over a small booklet. I went and sat with them and realized Ellie was helping her with her English. They were going over basic things like months, numbers and days of the week. I loved how we could take some time to build relationships with adults, not just the kids. And taking 15 minutes meant the world to this woman. – Elizabeth
Putting a face to all the prayers I've said before – Jordan
Experience the stories through photos in our gallery.
-Allison Sutton, Youth and Young Adult Ministries