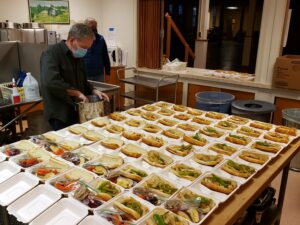 by Amy Borgmeyer
Ballard Sunday Dinner (BSD) is off to a rocking start in 2023! In the first quarter, we've served more than 150 plates to about 80 people (some people take things to go) and the count of those served is going up each week! Thanks to the awesome volunteers who are stepping up to help us out doing everything from cooking and serving to assembling silverware bundles and making sure the recyclables are taken out.
BSD occurs on the third Sunday of each month at Ballard First Lutheran Church. We are always looking for volunteers to help each month but we're especially hoping for some folks to learn to be leads so we can add you to the rotation.

Early lead is straight forward – planning the meal (recipes and grocery lists are available to help, as are instructions) and leading the volunteers through cooking and plating. 
Late lead focuses on making sure everyone is served and the kitchen and hall are cleaned up afterwards. 
All the roles have lots of availability (we'll partner up with you until you're comfortable) so we hope you'll consider signing up. 
Reach out to Amy Borgmeyer (amy.borgmeyer@gmail.com) if you have any questions. We'll see you soon!