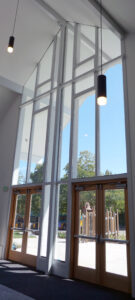 April 21, 2022
View a video update by Pastor Gretchen and learn how you can be a part of the transition.
https://youtu.be/MAsInQ2kZNk
April 1, 2022
In March, Pastor Gretchen Mertes, Parish Administrator Karie Stearns and members of our Church Council's executive team met with Bishop Shelley Bryan Wee and Assistant to the Bishop, Andy Yee, to discuss our staffing situation and upcoming transition process. In the next 6-8 weeks, the synod will be providing us a transition guide (which may or may not be an ordained person but will be trained in this specific ministry)  The transition guide will lead us through a discernment process of what is next for us as a congregation in mission, call, and leadership. In the meantime, our council will appoint a transition team of 6-8 people in the next few weeks to work directly with the transition guide to help us navigate this time. Their work will culminate in a Ministry Site Profile, a document that describes Our Redeemer's to prospective rostered ministers pursuing a call in our area. This process is not regimented on a timeline, and will take as long as it takes, and will rely on congregation input in a variety of ways. The more diligent we are, the faster it will move forward.
Separately, we have requested additional pastoral support for Pastor Gretchen from the synod in regard to preaching, adult forums, and some pastoral care during the interim. It may be a few months until this person is in place so we have taken it upon ourselves to find supply preachers at least through May. Pastor Gretchen is feeling very well attended to and supported so far, and is grateful for all your care and concern. 
According to the pastor, "The best thing you can do for me, and for the congregation, is to participate fully in the transition process, and stay active and involved in worship and congregational life."  
Video Update 3-21-2022: Pastor Gretchen Mertes gives the first bi-weekly update of our Pastor transition planning process, Part 1.