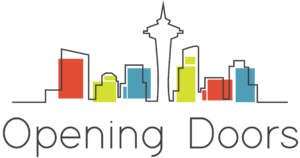 Join us throughout October as we kick off 31 days of "Opening Doors" as we explore weekly themes through worship, teachings, and scripture that will be transformative for our congregation. "Opening Doors" asks that we open ourselves to God's call for the church's future.
Opening Doors Themes
Week 1: "Opening Doors: Making a way for God's Welcome"
Week 2: "Making a Way for the Spirit's Dance"
Week 3: "Making a Way for Justice to Grow"
Week 4: "Making a Way for Future Generations"
Week 5: "Making a Way for Whole-Hearted Generosity"
October Sermon Series: "Making a Way"
Join us on Sunday, October 3rd as we kick off a 5-week sermon series. Please worship with us at 9 AM or 11 AM Sundays in person or online.
October Adult Forums – Sundays 10 AM
Adult Forums start up again on October 3rd, 10 AM, between services! Join us each week in person as we explore the Opening Doors themes. Details can be found on back.
October Circles of Connection on Zoom
'Circles of Connection' continue at their usual times in October. We will use scripture and discussion topics related to our special "Opening Doors" emphases. If you would like to join a Circle of Connection group, please contact Pastor Gretchen. She will connect you with an existing group to fit your schedule.
Tuesday In-Person Circle of Connection (October 5, 12, 19, and 26)
An in-person "Circle" will meet in person each Tuesday in October at Our Redeemer's, with a focus on our Opening Doors weekly themes. The group meets at 1 PM at Our Redeemer's.
A Daily Devotional
Look in your email starting October 1st for a daily devotional!
Resources for Children
Children are an important part of our congregation, and great examples of giving hearts! To better include them, we will be emailing Opening Doors activities to households with kids as well. Make sure to receive notifications by contacting Pastor Gretchen.

Opening Doors Calendar
SUNDAY October 3 – "Opening Doors: Making a way for God's Welcome"
9 AM Informal Worship
10 AM Adult Forum – Lectio Divina Study of Matthew 5: 1-15 (The Beatitudes). Our guest presenter for the opening will be Fred Flickinger, Our Redeemer's member and musician. Our Redeemer's Fellowship Hall East
11 AM Traditional Worship
TUESDAY October 5
1 PM Circles of Connection | Our Redeemer's
SUNDAY October 10 – "Opening Doors: Making a Way for the Spirit's Dance"
9 AM Informal Worship
10 AM Adult Forum – Guest Presenter: Cyndi Wolfe, "Art and the Holy Spirit". Cyndi is a weaver and fabric artist. She has made paraments and sacramental cloths for worship settings. Gospel lesson: Luke 1:26-38 (Annunciation). Our Redeemer's Fellowship Hall East
11 AM Traditional Worship
TUESDAY October 12
1 PM Circles of Connection | Our Redeemer's
SUNDAY October 17 – "Opening Doors: Making a Way for Justice to Grow"
9 AM Informal Worship
10 AM Adult Forum – Guest Presenter: Elizabeth Dickinson, Social Justice Minister at Our Redeemer's
Gospel lesson: John 6:4-14 (Feeding 5000). Our Redeemer's Fellowship Hall East
11 AM Traditional Worship
6 PM – Advance Commitment Night | Nordic Museum
TUESDAY October 19
1 PM Circles of Connection | Our Redeemer's
SUNDAY October 24 – "Opening Doors: Making a Way for Future Generations"
9 AM Informal Worship
Adult Forum – Guest Presenters: Rev. Chelsea Globe, U.W. Campus Pastor Cindy Ege, Elementary-age teacher, Our Redeemer's member and mother. Gospel lesson: Matthew 13:44-50 (treasure, pearl, fish). Our Redeemer's Fellowship Hall East
11 AM Traditional Worship
TUESDAY October 26
1 PM Circles of Connection | Our Redeemer's
SUNDAY October 31 – "Opening Doors: Making a Way for Whole-Hearted Generosity"
COMMITMENT SUNDAY | REFORMATION SUNDAY (wear red)
9 AM Informal Worship
Adult Forum – Guest Presenters: Adam Frantz, brewer, beer specialist, ORLC member Ronda Andrews: Hospitality specialist. Gospel lesson: John 2:1-11 (the wedding in Cana miracle). Our Redeemer's Fellowship Hall East
11 AM Traditional Worship