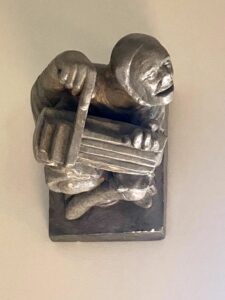 by Kristine Leander, Ph.D. (Member of Our Redeemer's since 1982)
It's not a gargoyle. It's not even scary, once you know its meaning.
"The Musician" is the statue currently hanging on the south wall at Our Redeemer's, looking toward the front door. It's a replica of a sculpture that has hung in Norway's national cathedral in Trondheim probably since the 14th Century. Hundreds of years ago, when countries such as France, Germany, Sweden and Norway were building cathedrals, itinerant craftsmen traveled around and lent their skills to the process. The actual completion could take several centuries, and incorporated the work of scads of unknown craftsmen. That's why no one knows exactly who created the original Musician or where the sculptor came from.
It is known that during that era, musicians were looked down upon. They were considered lower class—so low, in fact, that they were not allowed near the sacred altar of the cathedral. Perhaps the sculptor himself was also a musician? By creating the Musician and placing it inside the chancel of the Cathedral, near the altar, he was saying, "All belong at the altar of God, no matter what others think of you, what you look like or what you do."
Our Redeemer's came to own the replica thanks to a gift from a Norwegian couple, Ola Kai and Marit Ledang, in 1984. They lived in Ballard for a year and knew that joining a church was the best way to get involved in a community. They brought the Musician to give to whatever church they joined. Warmly welcomed by members of Our Redeemer's, they soon joined and Ola Kai sang in the choir.
After various placements around the church, around 2000 a committee was formed and a consultant hired to find the best place for the Musician. It was hung on the north side of the sanctuary, not inside the chancel but at least looking in toward the altar. The Dean of Trondheim Cathedral, the Rev. Knut Andresen, accepted our invitation to come in 2001 and bless the sculpture in its new location. Airline tickets were purchased, plans were made, but 9/11 happened and no one felt safe traveling. Plans were abandoned.
The Musician's message—"All are welcome at the altar of God"—reflects the work that Our Redeemer's has done to become a Reconciling in Christ congregation, our work on behalf of unhoused people, our Sunday dinners, etc. It's time for Our Redeemer's to form another committee, hire a consultant—if that's what it takes—and find the very best place for the Musician to announce his message, "All are welcome at the altar of God." Hey, maybe we can get the current vicar from Trondheim to come for a blessing too! I'm willing to help work on it. 
Scholars agree that the instrument is a bowed harp, which could have come from any of the countries of Western Europe. This is an image of the original musician sculpture which is located in the choir arch of the Trondheim Cathedral