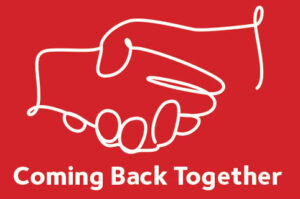 You are invited to Come CELEBRATE the completion of our renovation, worshiping TOGETHER safely, and God's EXTRAORDINARY GRACE and goodness!
Saturday, September 11

10 AM – Guided Tour of the Renovation
11:00 -11:30 AM – September 11th Commemoration
11:30 AM  -noon – Quiet Time in the Sanctuary
Sunday, September 12th
Come! Reunite, dedicate and celebrate! We will have 9 AM and 11 AM in-person worship, a building dedication featuring Bishop Shelley Bryan Wee, and a late afternoon salmon grill and self-guided tours of the entire building. 
9 AM – Informal Festival In-Person Worship
10:15 AM – Dedication of Our Facility to God's Mission – Bishop Shelley Bryan Wee will be joining us!
11 AM – Traditional Festival In-Person Worship
4 PM – "Welcome All Y'all" Community Celebration, Salmon Grill, and Church Open House (self-guided tours), plus lots of Kids Activities and fun!
5 PM – Brief Program thanking partners and welcoming the community