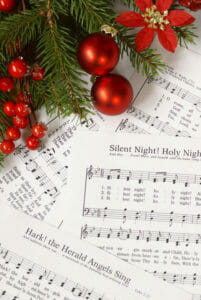 Contributed by Karen Lee, Our Redeemer's Traditional Worship and Music Director
Yes! We can still create beautiful Christmas music while we're online, and it will be fun to collaborate on our favorite Christmas carols!
Before the Our Redeemer's renovation began, Karen recorded organ accompaniments for "O Come, All Ye Faithful", "Angels We Have Heard on High", "Silent Night", and "Joy to the World." Using the Acapella app (you'll need an Apple device – an iPhone or iPad works well), you can play your band or orchestral instrument along with the carol(s) of your choice. And collaborating together, we'll create festive and meaningful Christmas Eve music! Karen can help with the technical aspects of using the Acapella app and will send you the music for the carols. Just let her know of your interest via e-mail: karen@ourredeemers.net and please include answers to the following:
• Your name
• Your instrument
• What carol or carols you'd like to play from the above list
• Your cell phone number, as this works best with sharing the Acapella
  collaborations
• And any other questions you have.
To have time to collaborate well, please let Karen know as soon as possible if you'd like to play. Thanks, and God's Blessings to you.