David McBride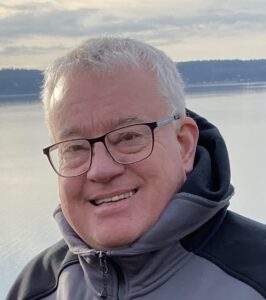 David grew up in Spokane, WA.  After earning a B.S. in Electrical Engineering at WSU, David relocated to Southern California to start his career.  David worked in the defense, semiconductor, and software industries, and also completed a MS in Engineering Management at Loyola Marymount U. in Los Angeles. In 2000, David married Pamela Altman, whom he had met at WSU.  Their first son, Colin, was born in 2003.  Subsequently, David and Pamela decided to relocate to Seattle, so that they could raise a family nearer to where their parents and other relatives resided. David found a position with a software company, and David, Pam, and Colin moved to Seattle in 2007. Shortly after arriving in Seattle, David and Pamela became members of Our Redeemers, where Pamela's great aunt, Gertrude Bergseth, was also a member.  Their younger son, Kyle, was baptized at Our Redeemers after he was born in 2008.  Their older son, Colin, completed confirmation at Our Redeemers in 2018. David enjoys wine, good food, travel, camping, hiking, reading, and fly fishing when he can find the time.  David has been a volunteer for Scouting for many years, currently with Troop 166, where both sons are Scouts. David and Pamela live in the Wedgwood neighborhood of NE Seattle, along with their teenage sons, Colin and Kyle.
Erin Miller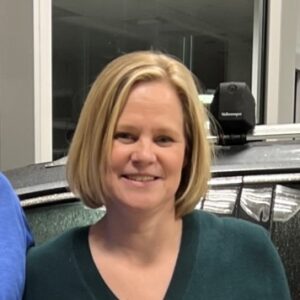 In 1999, Erin married James Miller who she met while working at the Evergreen School.  Their son Jackson was born in 2001 and baptized at Calvary Lutheran Church.  When Calvary and Our Redeemer's merged Erin became a member of Our Redeemer's, and her daughter Kate was baptized here after she was born in 2005.
Erin enjoys boating, hiking, traveling, and attending any and all Seattle sporting events. She volunteers twice a week at Treehouse Seattle serving kids experiencing foster care.
Erin and James live in the Montlake neighborhood with their two kids and their dog Cooper.
John Somm
I have been coming to ORLC for 11 years. I was born and raised in the Lutheran church, but gave it up in my teens. I live in the neighborhood, and had driven by the church for years. I don't think I ever knew it was a Lutheran church, I had been by it so many times. Even came here a few times to vote, back when we used to do that in person. My dad died in 2011, and during my soul searching after that, I stumbled, literally, into Our Redeemer's with my then 5 year old daughter – Raleigh. We both enjoyed the service. For me it felt like I had come home. It was all so familiar. I found myself especially moved by the Sermon, the Lord's Prayer, and the Prayers of the People. I have loved the message and culture of our church ever since.
Fast forward eleven years – A lot of memories, Nyer Urness/Ballard First Lutheran dinners, auctions and Sunday services later, and here I am. I look forward to serving God's church on the council.