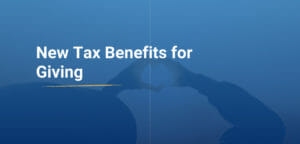 Did You Know? IN 2020, YOU CAN DEDUCT UP TO 100% OFF AGI AS YOU SUPPORT OUR REDEEMER'S MISSION!
The 2020 CARES Act allows tax filers to deduct gifts of cash to offset as much as 100% of adjusted gross income. This means that some people may reduce their 2020 federal income tax to zero.
For those of us who do not itemize, the Cares Act allows taxpayers a deduction for up to $300 in charitable giving in 2020 ($600 for married filing jointly). Normally, a taxpayer would have to itemize deductions for a tax write-off for any charitable giving. For this year, the $300 deduction is available for people who claim a standard deduction, which is $12,400 for singles or $24,800 for married filing jointly. 
Why would Congress include this incentive in the Cares Act?
Given the probable damage to nonprofits in the COVID economic carnage, Congress wanted to help by providing increased incentives for charitable giving. (This tax incentive does not extend to Donor Advised Funds or Foundations, or to stock gifts and appreciated asset gifts.)
We are not experts in the Cares Act Provision. We advise you to consult your professional, qualified financial advisor. 
While our primary motivation for giving is to serve Christ and our neighbors, this year our gifts to God may have the added benefit of reducing your taxes. We appreciate anything you can give in this challenging year.