Yep. Our staff started planning Holy Week last summer, and had finished by the end of January.
THEN, the pandemic! Enter Plan B.  We made a whole new plan for creating "Holy Week Kits" for each household, with palms, bread & wine, votives and bells for each service during the holiest of weeks. It was going to be so great!
THEN, the "stay at home" order, keeping worship leaders from being in the church.
So now, PLAN C! Different from anything we've done before. But meaningful, even so.
Holy Week 2020 – The Journey to New Life
Re-living the Passion of Jesus…which is our story!

(How to connect online instructions)
This year's Holy Week will center simply and fully on the scriptural story of Jesus' last days, crucifixion and resurrection. All our worship will be streamed, with simple in-home, hands-on ways to participate, except our 24-Hour Prayer Vigil, which will take place at home.
There are some simple things that we can use as part of our worship services together to make things more interactive and meaningful.  The tools you might consider finding around your house are as follows:
April 5 @ 11am – Palm Sunday – Enter Jerusalem with Jesus!

You will need a branch or leaf. If you have a palm branch – GREAT! But if not, any branch will do.  We will also be celebrating Holy Communion, so have your bread and festive beverage ready to participate.

April 9 – Maundy Thursday – Share Jesus' Last Supper and a New Commandment.

At 6pm we will share a special meal together, each from our own homes. At 7pm, we will share communion together.  You will need: a small loaf of bread, and some port wine, or the beverage of your choice.

April 10 – Good Friday – two ways to participate.

Pray with Jesus. Our Good Friday Prayer Vigil will continue this year, with those who volunteer to pray praying from home.  The vigil runs from 12pm April 10 to 12pm April 11, with individuals signing up for each hour.  Prayer requests to be prayed during the vigil should be sent to Kari Guddal at kari_guddal@outlook.com.

Listen to Jesus on the Cross. During the day, you are invited to listen to the Faure Requiem, available at this link.
At 7pm, we will join others from our synod at a Service of Tenebrae (shadows) which include Jesus' seven last words from the cross. The link for the service is www.LutheransNW.org/HolyWeek. To enhance your participation, try and find seven candles, and a room that will be dark when the candles are out.  They are extinguished one at a time, throughout the service.

April 12 – Easter Sunday @11am – Rise with Jesus!

We will be worshipping virtually with our whole synod, with our Bishop, Shelley Bryan Wee, preaching.  The link for the service will be found at www.LutheransNW.org/HolyWeek.
We will have Holy Communion together. Some tools to make the day more festive: find a bell that rings! You can ring it every time we say Alleluia! And make a sign or banner that says "ALLELUIA!" with as many colors as you can find, to display in your windows, or parade around your house and yard.
(How to connect online instructions)
Each of these simple things will enhance our worship experience together.  Of course, if they're not handy, it's no big deal – come as you are!
Offerings appreciated.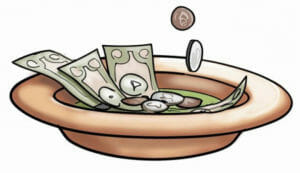 Thank you.